Cities AI is a Polish tech start-up providing insights on people flow on the streets of Warsaw pre-and during coronavirus pandemic. Our day to day monitoring confirms the obvious - the restrictions taken by Polish government in mid of March lead to sharp decrease of people traffic. First week after lock down we noted 44% less people on Warsaw streets that in pre-COVID-19 times. However – comparing people flow among different districts of Warsaw brings to attention significant differences in pedestrian traffic drop between City center (noted over 60% of decrease in people flow in comparison to pre-COVID-19 times) and the rest of the town (mainly described as residential area with on average 33% of people traffic decrease).
Graph 1: Percentage of pedestrian traffic in Covid-19 times in comparison to pre-virus times (average taken for period March 1st – March 12th, 2020).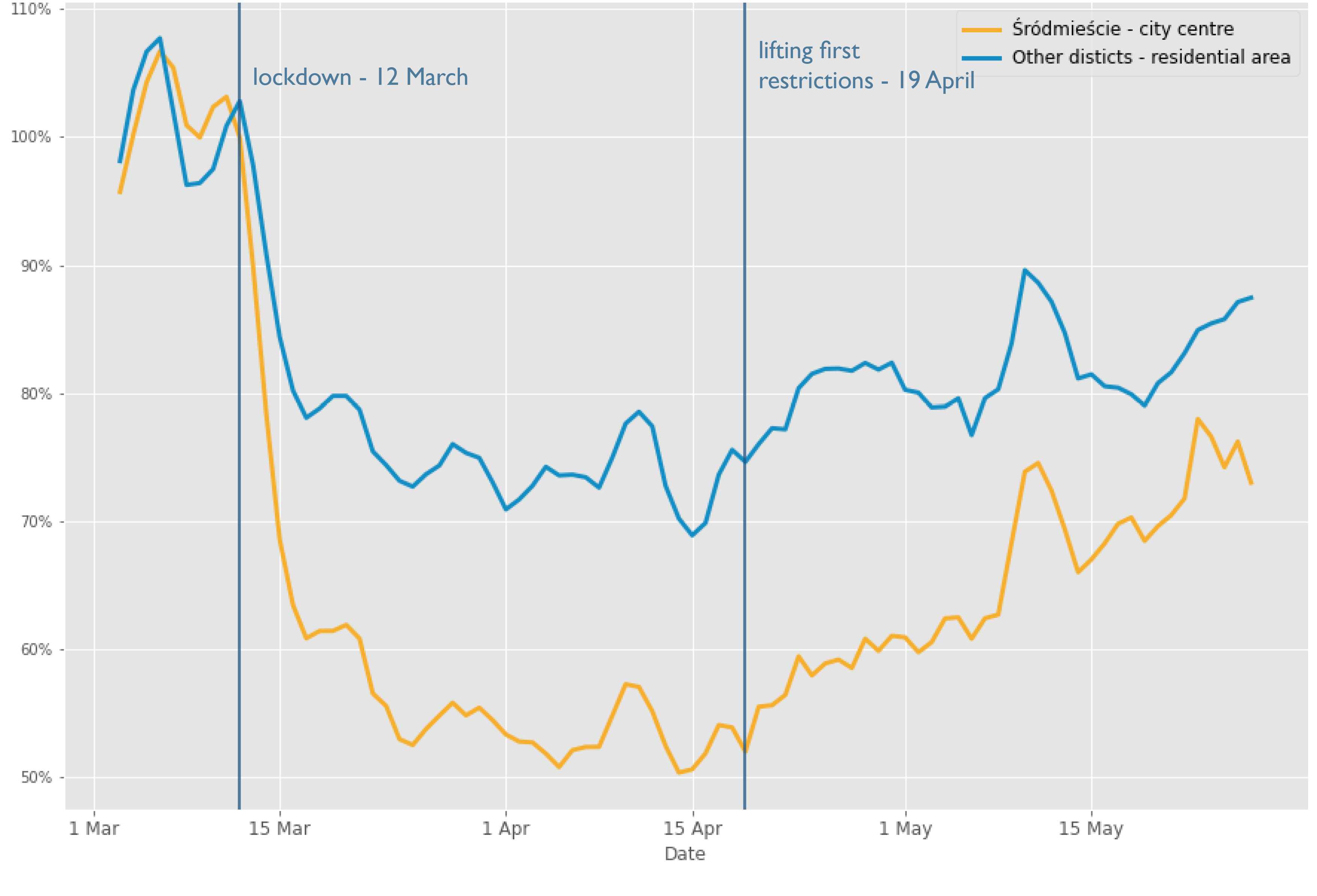 Now that lockdown is loosened, offices and schools slowly opening their doors and warmer weather inviting people to leave their homes we observe growth of pedestrian traffic. Warsaw is definitely not fully back on track in comparison to pre-corona numbers when it comes to people flow, but businesses depending on street traffic – random or intentional visits at the point of sale - can breathe easier. Cities AI people flow confirms changes in people' traffic behaviour in comparison to full lockdown period (please see map 1).
Map 1: Density of pedestrian traffic during corona lock down and after loosening the restrictions.
At this stage we can just guess when things will return fully back to normal or businesses have to prepare themselves to operate in so called new normal. In both cases it's important to observe people flow trends, to be up-to-date quickly and act rapidly as events develop – to maximize or optimize your marketing, sales, HR efforts, renegotiate rental costs accordingly to new events, to make a decisions on opening new points of sale etc. Cities AI is offering full data support delivering fresh insights using it's proprietary machine learning and computer vision technics working on daily collected hundreds of thousands of city view images from Warsaw. Such approach allows us to understand trends and changes not just on the level of whole city, but also specific districts and concrete streets or points of sale as shown on data below.
We have chosen couple of Warsaw districts pointing out specific locations within those districts where people' density significantly changed and grew in comparison to lock down period. Although we collect data 24/7, for the purposes of this analysis we put attention to business day only, analysing time frame from 6 am to 9 pm. Data on maps below are color-coded to show people flow volumes and percentages of growth in particular points of interests. As analysis shows biggest traffic comes from public transport locations, city markets and shopping malls. City center of Warsaw noted biggest growth in pedestrian traffic (over 70% more people in comparison to lock down period), other districts grew their pedestrian traffic on average over 50%.
Map 2: Growth of pedestrian traffic per selected districts in Warsaw after loosening governmental restrictions.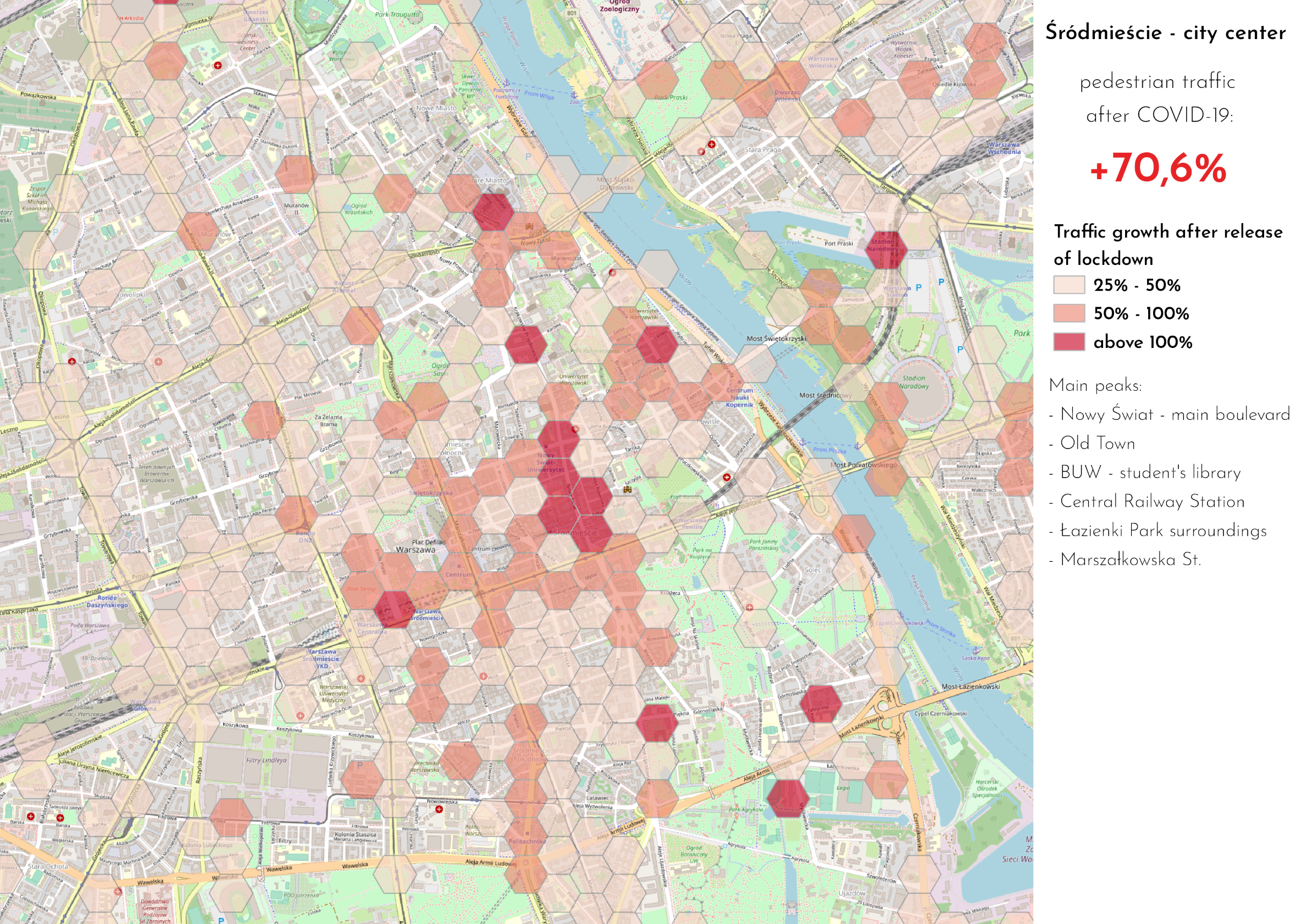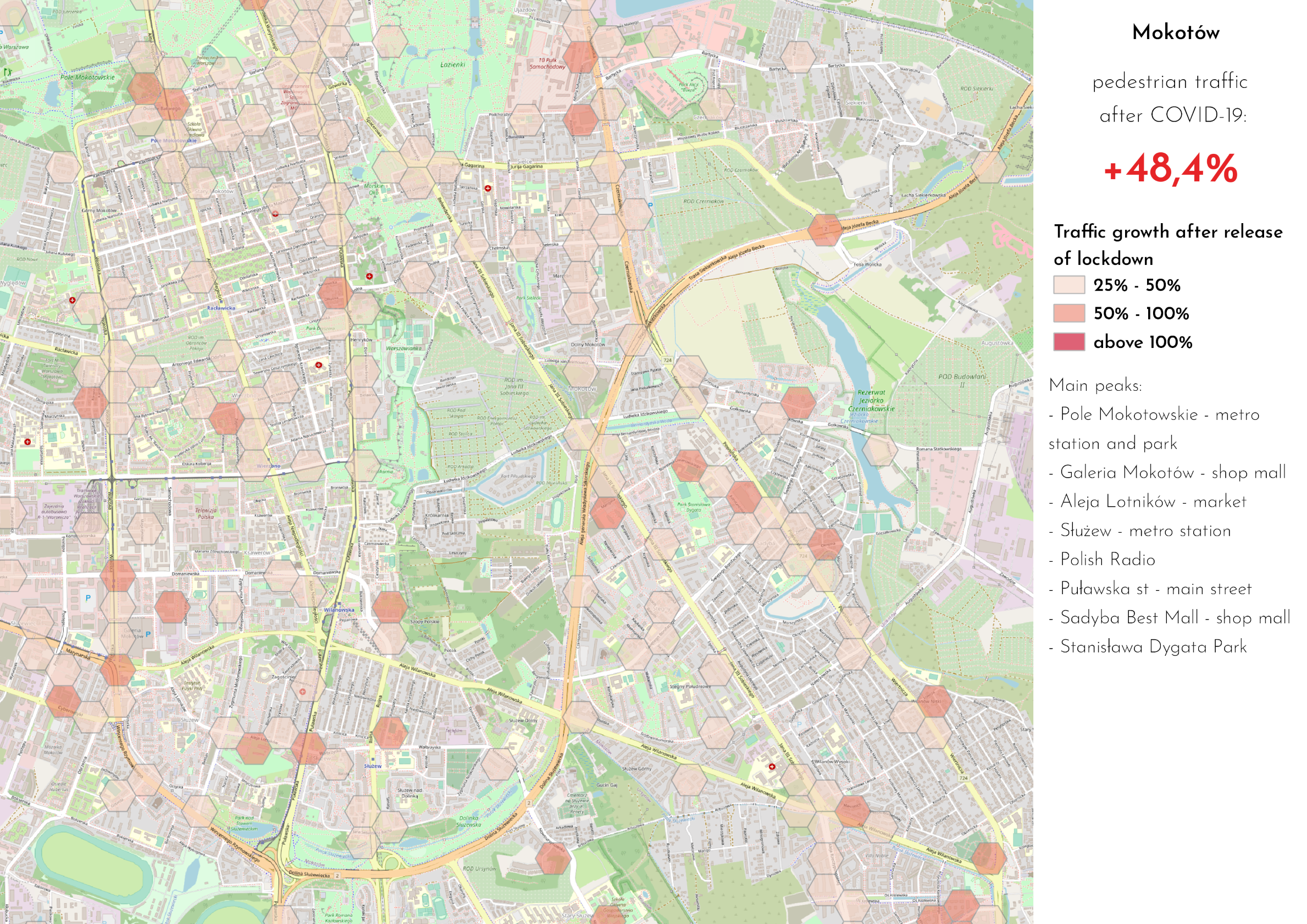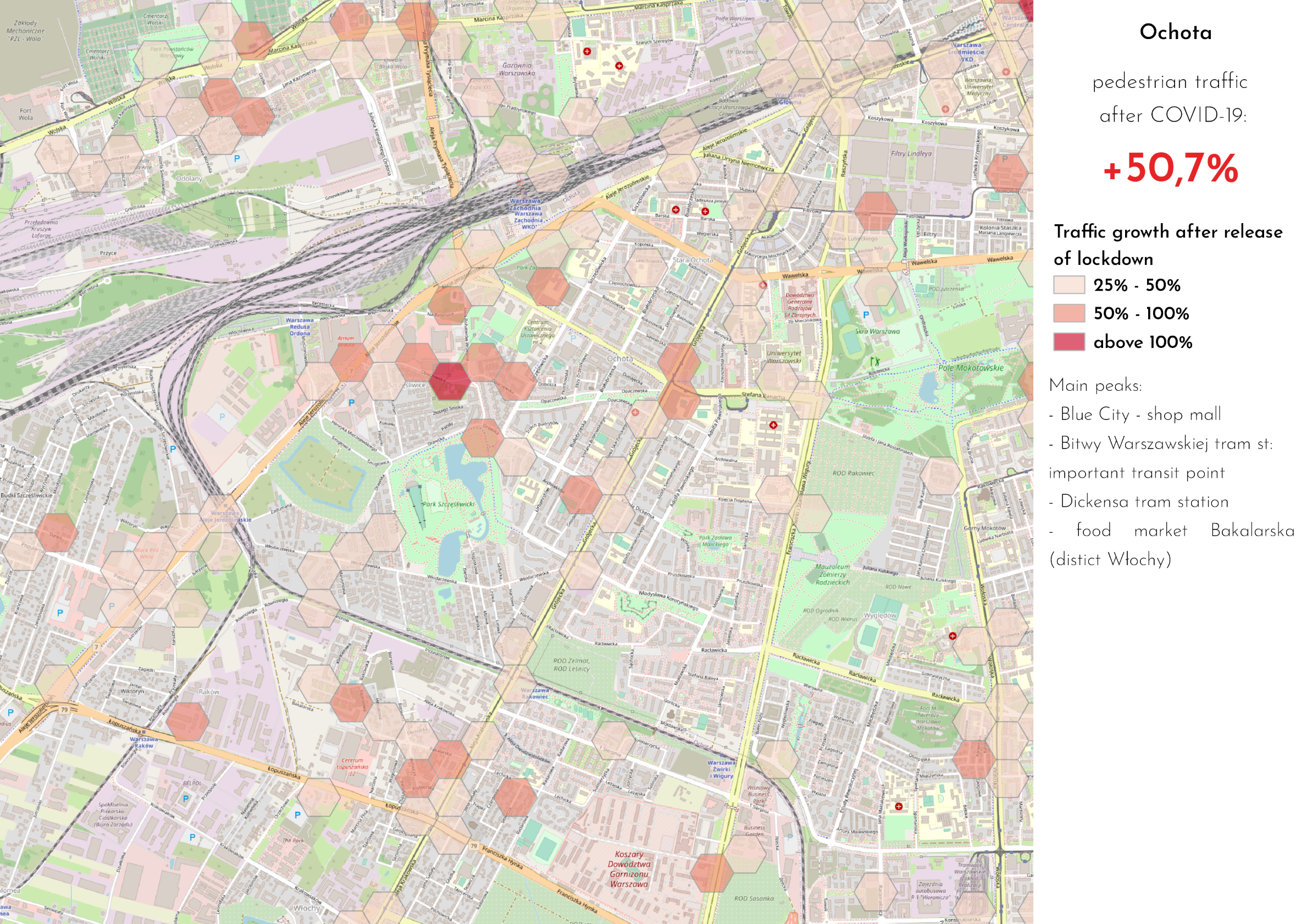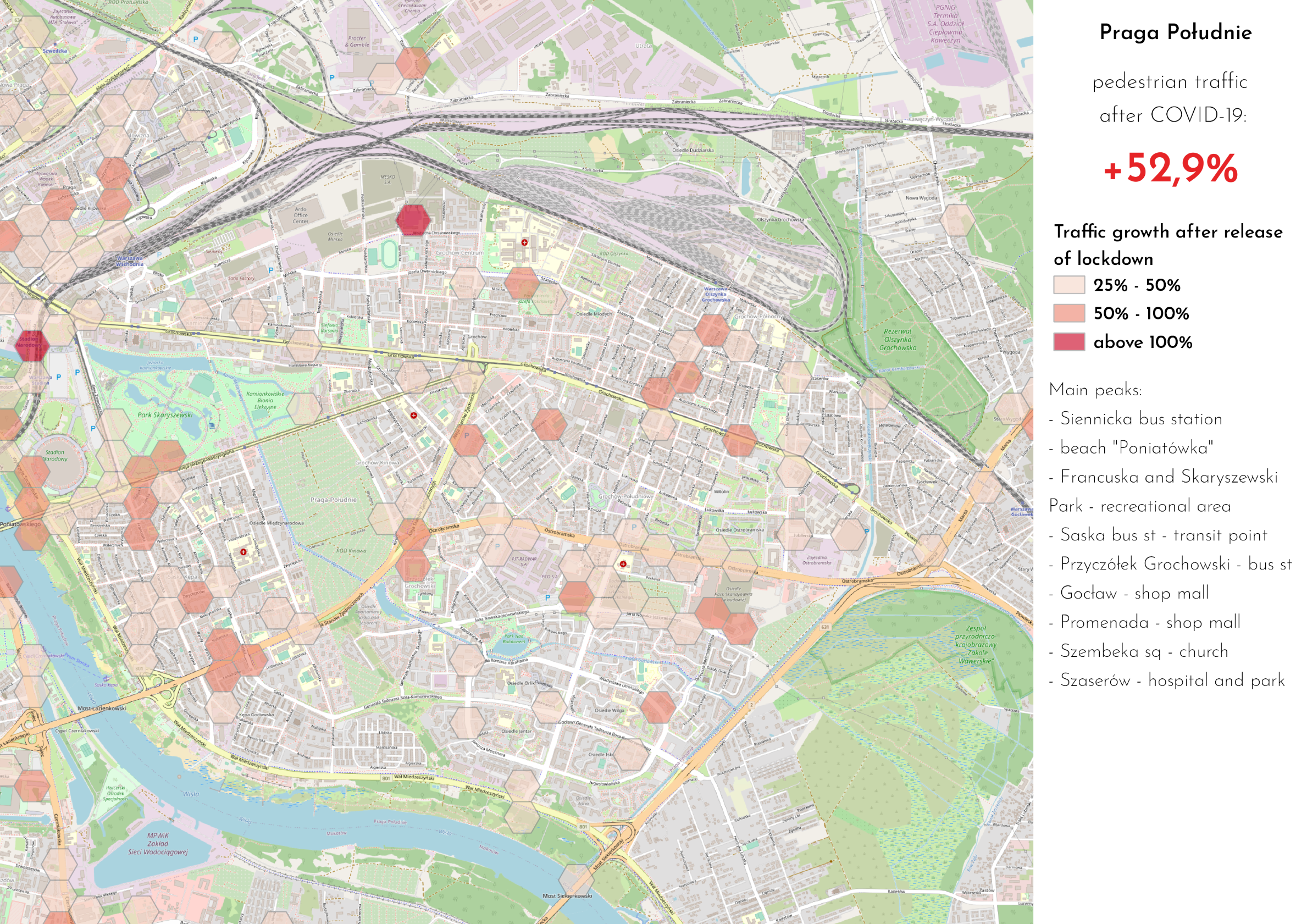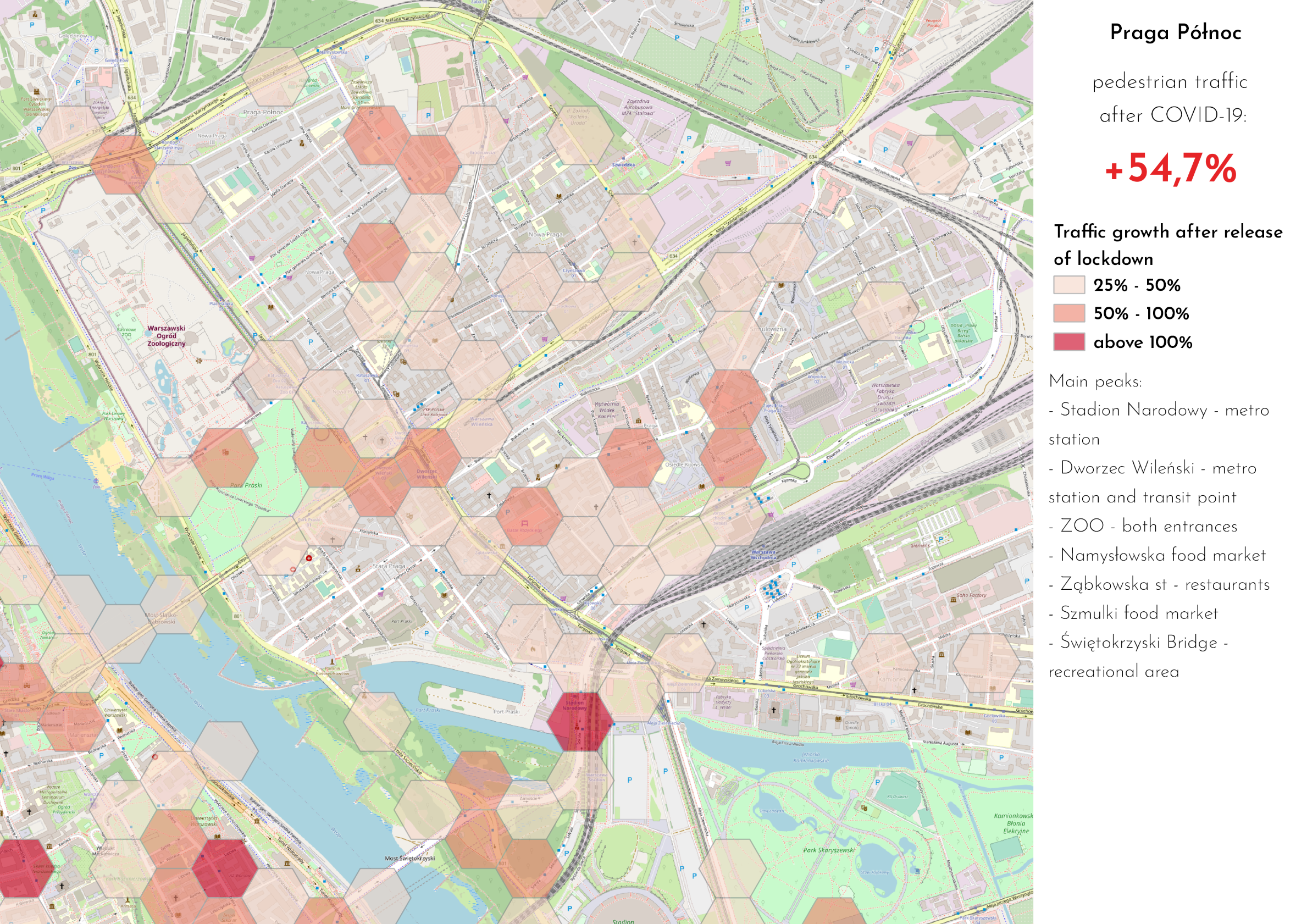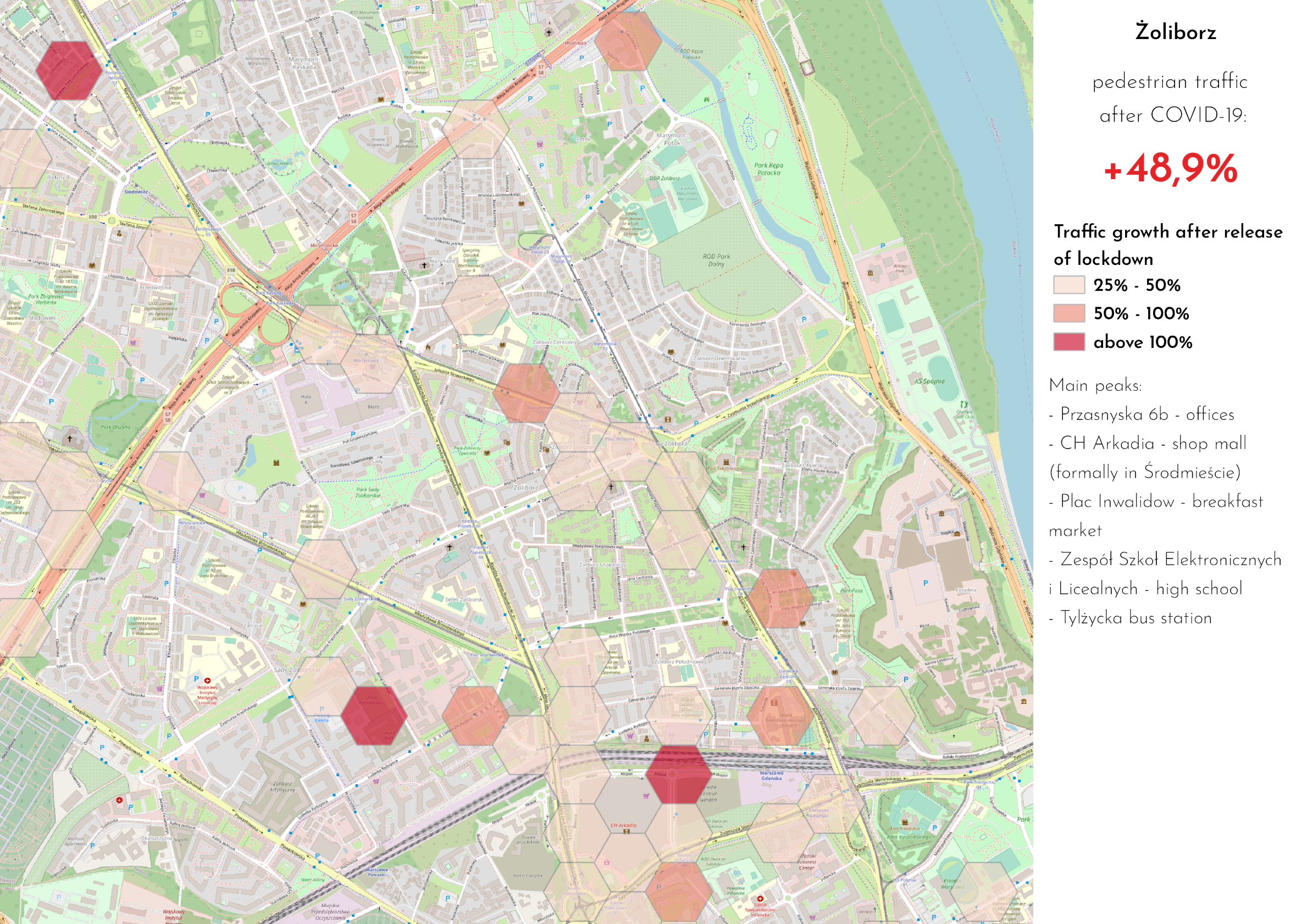 Coronavirus pandemic pushed companies to think and act towards digital transformation, introducing innovative ways on how to communicate with clients or serve customers – e.g. Unilever opted to virtual fairs, Ikea prepared manual on how to stay home, beauty companies opening online courses and consultancies on how to up-skill yourself and be your own beautician, restaurants promoting their delivery service etc.
It's still a big question if customers will fully return to their old habits and lifestyle led before the virus or will they develop new approaches to services previously used in pure offline mode. Increase in people flow we observe in Warsaw is positive sign for out of home businesses and a great encouragement to all business owners to think hard and fast on how to rebuild sustainable enough business models for offline of the future. Cities AI is committing to keep you posted! Stayed tuned.